We're keeping this WILD tradition going on September 22nd! Get ready for all things polar bear themed as we fundraise for polar bear conservation and raise awareness of biodiversity loss and climate change! This year we are excited to introduce a NEW 4km sub-event which will take participants through the Wilder Institute/Calgary Zoo (the same route as Leg 1 of the relay!).
---
The Wild Run, formerly the 'Gorilla Run', was established by Calgary runner and primate enthusiast Emm Kytryk in 2004 to raise funds for Mountain Gorillas. Run Calgary took over the event to continue its legacy and conservation efforts in 2015.
To date $157,000 dollars have been donated through this race to help preserve habitat of wild animals threatened with extinction.
Each year we feature a different animal at the Wilder Institute/Calgary Zoo so we can sneak in a little animal education to this fun family-friendly event. To date, we have featured, learned about and contributed to the habitat conservation of mountain gorillas (2004-2017), pandas (2018), burrowing owls (2019), lemurs (2020), Vancouver Island Marmots (2021), whooping cranes (2022), hippos (2023) and this year we will be learning about and raising funds for polar bear conservation!
Please join us, as we run in and around the Wilder Institute/Calgary Zoo bright and early on Sunday September 22, 2024 for the annual "Race For Conservation"! You can choose to run the 10 mile (16km) course solo, round up your crew and race the course as a relay (2-4 members), or take in the sights with our new 4km solo run!
The in-person event starts and finishes on St. Patrick's Island at "The Rise", which is our very own party site for the Wild Run! All runners taking part in the relay will also transition their relay legs at this location, making it a great location for family and friends to cheer you on! The 4km solo run and first leg of the 10 mile course run through the Wilder Institute/Calgary Zoo, but ALL participants have free access to the Wilder Institute/Calgary Zoo after the race!
2024 Wild Run Scarf featuring the Polar Bear
Personalized race bib
Free entry into the Wilder Institute/Calgary Zoo on race day by using your bib
Post-race celebration in the Wilder Institute/Calgary Zoo and an optional breakfast for purchase
Chip timed event
Opportunity to help support animal conservation
Prize Draw entries for those who fundraise/donate a minimum of $50
Please note, registration fee does NOT include race day parking
Participants can add:
Finishers' medal featuring our 2024 animal (2023 medal shown below for reference)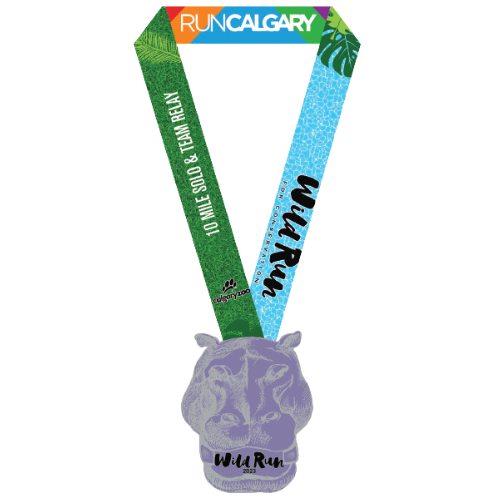 In an effort to continue our sustainability and conservation efforts, we are offering an optional finisher's medal again this year, an initiative that was implemented in 2023. For those that still love to collect medals from races (we see you!) you can add the medal to your cart during registration! Medals will be available while quantities last. For those that wish to help create a little less waste, you can choose not to purchase the optional medal.
Package Pickup
September 22, 2024 - Event Day
Bag Check Opens: 6:45 AM
Solo Race Starts: 7:50 AM
Relay Race Starts: 8:00 AM
Awards in the Zoo: 10:30 AM
Bag Check Closes: 11:30 AM
*Event day schedule subject to change.
* 2023 course route shown below for reference and subject to change for 2024.